Asuncion: A good place to stay in Asuncion is the Black Cat (El Gato Negro). It's central, very clean and Asuncion's first hostel for backpackers.
Contact: vcolman05@hotmail.com Tel: 595 21449827
From Asuncion there are buses throughout the day leaving to Concepcion. They cost 60.000 Guarani and take roughly six hours. There are two routes. The Chaco route is more interesting although the bus is old and dirty. There are also night buses that leave up to 10.30pm.
Foz de Iguazu: A good place to stay is the Hostel Natura: www.hostelnatura.com
From Foz de Iguazu are buses to Asuncion and Concepcion. The Concepcion bus takes 9 hours and leaves at 12.15 to arrive at 9pm – in both directions.
Concepcion: El Roble.
The Aquidaban: The Aquidaban is a cargo boat that travels every Tuesday at 10am from Concepcion to Bahia Negra. It arrives in Bahia Negra on Friday morning. It costs 100.000 Guarani. A cabin is available for 80.000 Guarani extra. This usually has to be booked a few days in advance.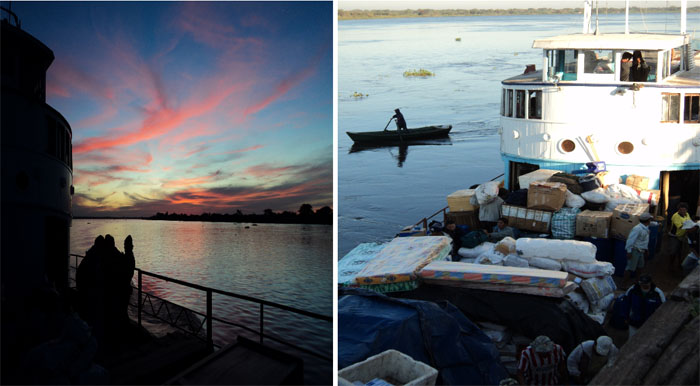 About the trip. The first day can be a bit of a nightmare. The boat is filled high with produce and people, all bundled on top off each other (see photo above, this is Tuesday morning ready for departure). If you have no cabin then sleeping will probably be a problem. However by the second evening the boat has usually calmed down, people and produce have left and there will be space up front to lie on deck and watch the billion stars as the boat chugs along through the night (see photo on left).
The cabin is a small room with a bunk bed. There is a mattress but no bedding. The food is repetitive but good. Large stews of rice/spaghetti and meat. Each meal costs 10.000 Guarani. On the first few days you need to arrive early as the food finishes quickly. However the boat is filled with fruit, snacks and drinks for sale (but not bottled water – people drink the river water).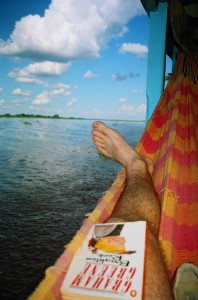 The boat leaves Bahia Negra a couple of hours after arriving on Friday morning and gets to Concepcion on Sunday morning. It is traveling down stream and has little cargo to unload, so the trip is much quicker.
Catching the Aquidaban from Vallami: The Aquidaban stops in Vallami on Wednesday afternoon. If you are interested in catching it there, you can stop of at some interesting places on the bus route to Vallami. See: North of Concepcion.
Bahia Negra:
Detailed information on Bahia Negra
Bahia Negra is remote. There is no bank or internet. You need to take sufficient Guarani's for your plans. The Tres Gigantes nature resort is highly recommended, but not cheap, however it is sometimes possible to negotiate a reduction on the price once you arrive.
Bolivia:
You can reach Bolivia from Bahia Negra. The price for an outboard motorboat is between 350.000/400.000 Guarani. The boat takes you to Puerto Busch and from there it is a 180km bus trip to Puerto Suarez. Visas for Bolivia and Brazil can be obtained at the first point of entry.
Paraguayan Exit Visa:
This is supposed to be obtained in Colonia Peralta. However the Aquidaban stops there in the middle of the night and you need to get a small boat from where the Aguidaban stops, Isla Margarita, to Colonia Peralta. So Peter has arranged that you can get your exit visa in Concepcion at the Departmento de Identificacones.
American visitors:
Must get their Visa for Bolivia in Asuncion. They will get send back if they have not pre-arranged their visa in Asuncion.