At the turn of the last century a lot of money was put into Concepcion – particularly by Italians – who thought it would become a rich outpost next to the Chaco which they hoped was full of petrol, gold, tin – something, anything of value. The Chaco failed to produce, and with the end of tannin production on the upper river, Concepcion slipped into decline. However it is a port town with an interesting frontier atmosphere, and particularly at the weekends, can become very lively.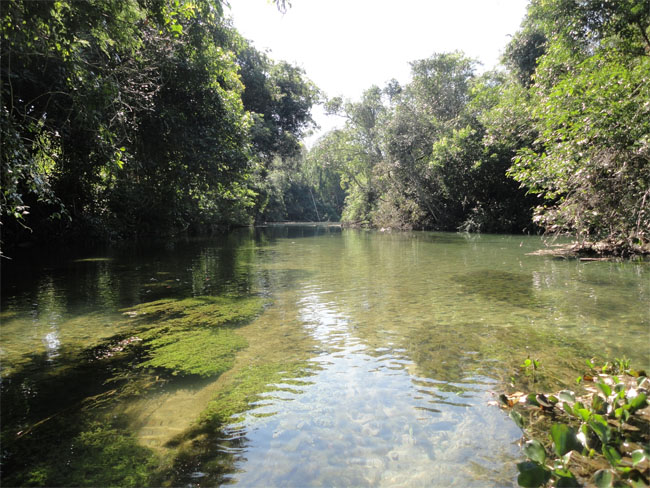 (The clear waters of Tagatija, 80km's north of Concepcion)
Places to Stay:
The best options are on Presidente Franco. This is the road that goes from the one set of traffic lights in the center of town down to the port. If you arrive by bus get out at the traffic lights. If by boat, just walk up from the port.
Hotel Center: Most people stay here. It's cheap. There is a reason for this. 50,000 for a double.
Hotel Victoria: More style, a little bit more pricey, attractive courtyard, entertaining history involving Butch Cassidy falling in love with a chamber maid and buying her the hotel (allegedly). 60,000 for a double.
Hotel Francis: Great pool. Decent breakfast. Basic rooms. Significantly more expensive. 120,000 for a double.
Hospedaje sol: Opposite port. Friendly owner. 40,000 for a double.
Concepcion Palace: Armed protection. Real style. Great swimming pool. Sells food produced in El Roble. 400,000 for a double.
Where to eat:
Pizza Mil Sabores: Definitely best pizza in town. Can do a genuine thin crusty on request… and they have jalapeno peppers. One block up and back from hotel center. Although the owner is talking about moving to Presidente Franco, one block up from hotel Victoria.
Asado: Opposite Hotel Victoria and owned by the same people. Good barbecued meat with piles of mandioca.
Valens: Surabi a la teja – is good, otherwise pretty standard Paraguayan stuff. If you need to watch a European league football match on a large screen, ask them politely, and you should get lucky.
Palo Santo: Next to hotel Victoria. Owned by Brazilians, proper caipirinhas – the small option is better than the large. Carne de sol con verduras is good value, and different to the usual Paraguayan food options.
Dance:
Casa Puerto is open on Saturday night to deliver reggae tong till you can take no more. Being Paraguayan no one enters till at least 1.30am – as that would suggest they had nothing to do earlier – the fact that they have nothing to do earlier, is not important.
Delirious: looks promising, but tends to be filled with kids.
The real activity on Saturday night is da "la vuelta" – driving around and around the block with music blasting while drinking Brahma "en lata". But as you probably didn't arrive in town with a Toyota Hilux, dislike reggae tong, and hate Brahma – this won't seem like a great option.
The Concepcion Tour: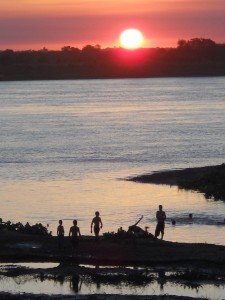 Walk to the port. Hire a boatman to take you across to the island. On the island, walk to the church. It's really rather beautiful. If you wish, explore the island a little bit. In the summer, the beach is a great place from which to swim.
Back in Concepcion turn right out of port and follow road past the decrepit hotel picis. Two blocks up is a small local museum. It ain't the Louvre – but it has a few things of interest. Opposite is kiosk that sells, in my opinion the best empanada in Paraguay – their Empanada Chilena.
Walk up to the next plaza (one block) and diagonally across it. Then up a block. Another museum. Opposite the swanky new Colorado's building painted in bright red. You need to ask for the key to enter. The museum is in honor of Miss Haversham. Nothing has been touched in years. Dust, decay and mould – but many wonderful local nuggets.
If you like the building in which this museum (it was build by Italians) rests, wander around the local blocks. There are lots of similar old colonial buildings.
Then to the market. One block back from the traffic lights. Pick a corner and walk inside. A thousand young girls will invite you to "Adelante."
Out of the market and back to the main two laned street. In the middle are a number of relics of the British industrial revolution. They have little plaques: Built in Leister 1856. Once, a very long time ago, Britain used to build stuff.
And that's your Concepcion tour.
In the evening, for the six months of summer – large numbers of people go down to the port to swim from the mainland to the island. It's a good atmosphere and there is usually a beautiful sunset.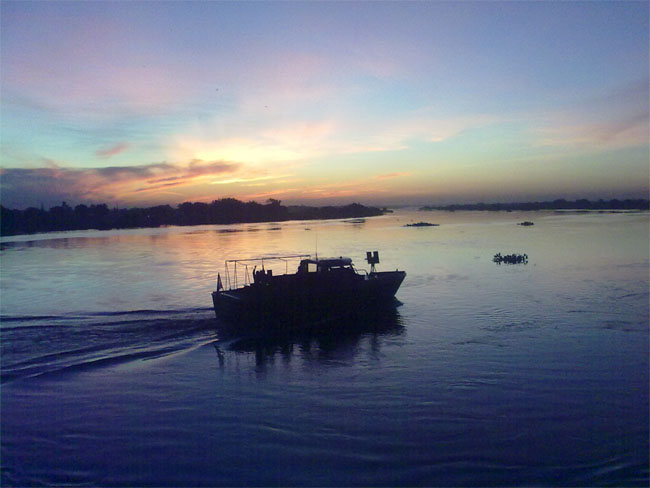 (Puerto de Concepcion doing its Apocalypse Now impression)
On Sunday afternoon the port turns into a party area, with music and water skiing – even kite surfing.
Concepcion Sunset tour.
Start at the port and walk up river away from the bridge. The road passes past an old grain factory that has been for sale for at least 10 years. Keep left and you will come out on the river side road/path. Particularly in summer it offers beautiful views of the river, people playing football and volleyball on the beaches that emerge when the river is low and an interesting picture of the development of Concepcion. This used to be one of the poorest areas in town as when the river rose the houses flooded. Now rich locals are buying up the land and building substantial properties along the front which sit uneasily next to their poorer neighbours. Follow the road to the end where it loops in land past some low smokey brick making factories then right and back into the city. The complete trip is about 6km. Obviously you can do it at anytime of day, but the atmosphere and view are definitely best as the sun is setting.
North of Concepcion
There are some great places close to Concepcion where you can get a real taste of Paraguayan countryside.
Paso Horqueta: 1 hour on the Vallemi bus. The main road has a number of hospedjas. If you have a tent then head to Rancho JM. A one km walk through a wood leads to a beautiful private beach where you can camp for 10/20mil (see photo below). JM also has good rooms for 50.000.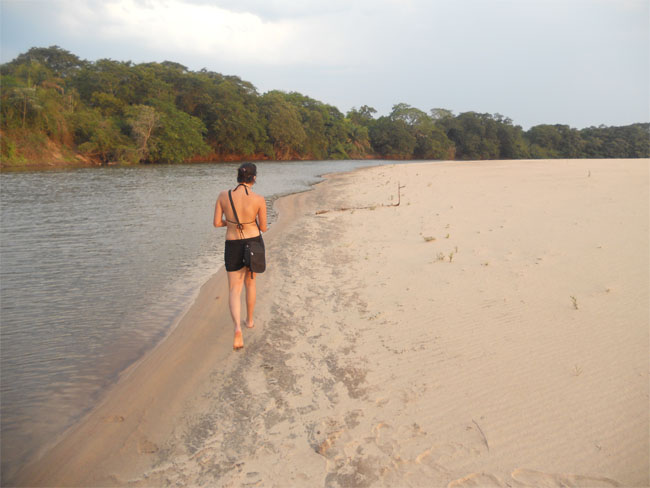 Paso Horqueta is a one (small) street town. You might want to bring some food with you if you plan to camp on the beach. Also it is worth waking out of town, and down to the river next to the road (about half a km). It is deeper here and better for swimming. There is a small kiosk just before the bridge owned by a large friendly woman who depending on the time of day will often have reasonable food. If not, she always seems to have a stock of empanadas to fry. You are probably sick of empanadas. But hers are not bad, she actually adds a little bit of spice. Her kiosk offers a beautiful place to look at the rio in the shade and you can also camp here for free. From there you can walk onto the old wooden bridge and marvel at the general destruction being caused by the new asphalt bridge. A random idea that may appeal to some – why not buy some basic fishing gear in Concepcion – string, hook, and weight will cost about 20 thousand. The aquidaban offers an excellent spot.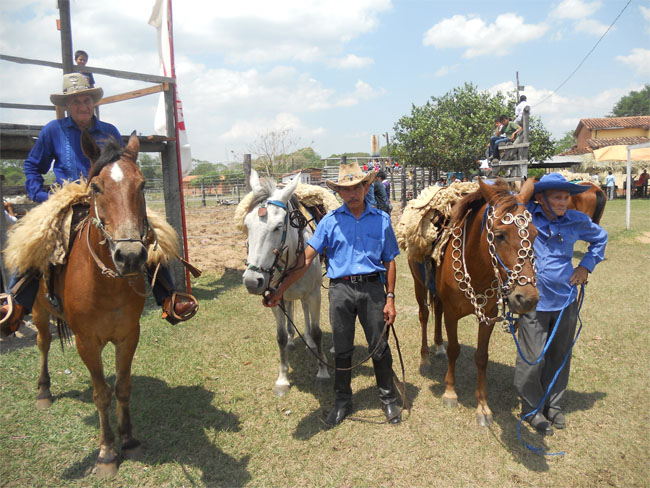 (Three cool dudes at a traditional campo fair in Paso Horqueta. Their blue shirts indicate support for the political party Liberales)
On the same bus another hour will see you arrive at Tagatiya.
A famous clear river that contains small waterfalls and numerous fish. The jungle also has lots of interesting birds and monkeys and most people comment on it's strange over worldly atmosphere. Ask the bus driver to drop you at Donna Blanca's place. She has space for tents and basic rooms and provides good food. It is a 1km walk from her granja down to the river. Phone number: 0982 917792.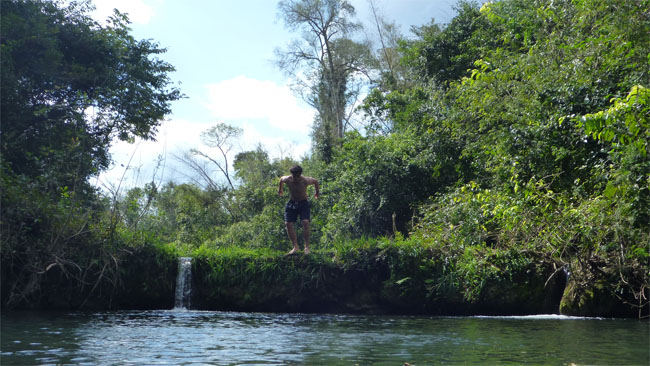 (Frenchman about to jump into the deep clear pools of Tagatiya)
You can then take the bus up to Vallemi. A town with beautiful views of the river a large cement factory and caves to explore. The best restaurant in town is one block back from the port and has seating on its roof. Wonderfully cool on a hot day. A number of boats can take you back to Concepcion or up to Bahia Negra. The Aquidaban stops in Vallemi some time from Wednesday lunch till the evening.
Puerto Casado: Ferries and private boats can take you across the river to Puerto Casardo. This is one of the most interesting towns on the river. Lot of old buildings, overgrown with orchids, a steam engine factory… well worth a visit.